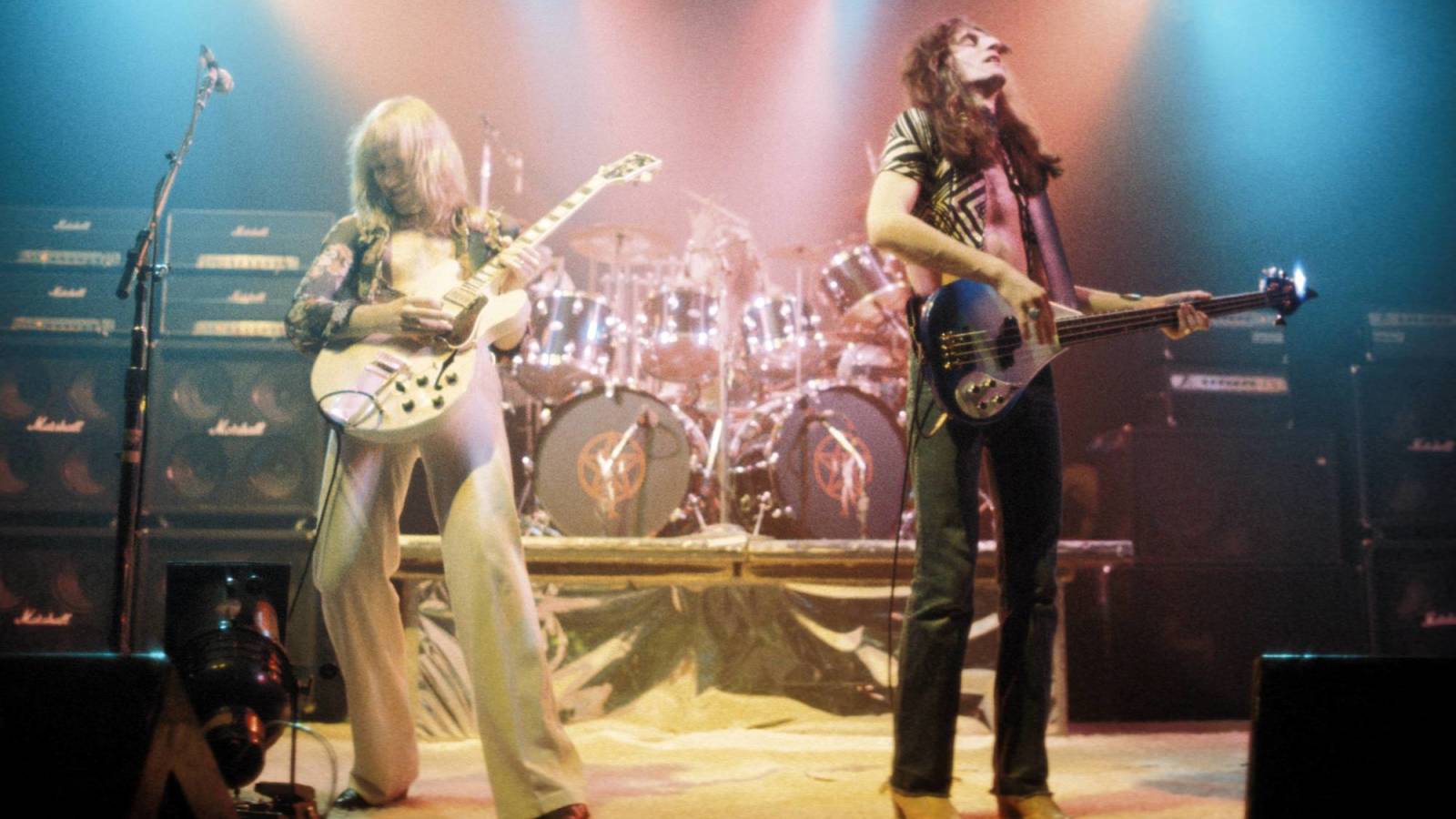 One can trace the roots of progressive rock back to the Beatles and the Beach Boys (Sgt. Pepper's Lonely Hearts Club Band and Pet Sounds, specifically). Then there were bands who found a place in the genre and never left — or least enjoyed notable success as part of the movement.
Here are 20 of the best (listed in alphabetical order) bands who did just that.
1 of 20
The Alan Parsons Project
The Alan Parsons Project
This was really a two-man outfit between Parsons, also a renowned producer (Beatles, Pink Floyd), engineer and composer, and Eric Woolfson. While the group is best known for the 1980s' "Sirius"https://www.yardbarker.com/"Eye in the Sky," (calling all Chicago Bulls' fans) it was generally praised for the overall production value and hi-fi, surround-sound listening experience that also included various elements of progressive pop, art-rock, and light rock. The Project's 1977 concept release I Robot is an early ode to artificial intelligence, the story of machines overtaking man.
Per Ole Hagen/Redferns/Getty Images
When discussing progressive metal, Dream Theater might be the quintessential band of that genre. Formed in the famed halls of Boston's Berklee College of Music by guitarist John Petrucci, bassist John Myung and former drummer Mike Portnoy, Dream Theater has fused its exemplary, technically sound musicianship with precisely executed metal riffs and in-depth, mature writing. There's no better example of all that than the stellar 1999 release Metropolis Pt. 2: Scenes from a Memory.
3 of 20
Emerson, Lake & Palmer
Michael Ochs Archives/Getty Images
ELP was a progressive rock supergroup and one of the most successful rock acts of the 1970s. Paced by Keith Emerson, who earned early prog-rock success with the Nice, with his groundbreakingly theatrical keyboard/synthesizer/organ work; the exceptional timing and rhythm of drummer Carl Palmer; and Greg Lake's impactful songwriting ("Lucky Man," "Karn Evil 9"), the group earned major success with it first four studio albums. Most notably its 1970 self-titled debut, '71's Tarkus and the whimsical Brain Salad Surgery, from 1973-74.
Fates Warning
Another giant of the progressive metal genre, Fates Warning, which broke in the early 1980s, was heavily influenced by the new wave of British Heavy Metal. The band's third studio release, Awaken the Guardian (1986), is considered by many critics to be one of the great progressive metal albums of all time. Fates Warning, which released its most recent record Long Day Good Night in 2020, has been successful in meshing traditional heavy metal speed and precision with the intricacy, timing, and complexity of the collective progressive sound.
Samir Hussein/WireImage/Getty Images
Before Genesis became a pop juggernaut during the 1980s as three-piece (Phil Collins, Mike Rutherford, Tony Banks), it was one of the pioneers of progressive rock with vocalist Peter Gabriel and guitarists Steve Hackett in tow. Perhaps the most acclaimed offering from those prog-rock years remains The Lamb Lies Down on Broadway (1974). Though not praised critically out of the gate, it grew in popularity over the years and is, perhaps, the defining moment of Genesis' early days.
Armando Gallo/Gettry Images
As we've seen so far, the British fancied the prog-rock movement. An unheralded group of the genre was London's Gentle Giant. Active throughout the 1970s, the band was one of the more versatile and expansive progressive rock outfits. Gentle Giant's sound included elements of folk, jazz, classical, medieval and baroque stylings that set the group apart from its contemporaries. The band was quite busy back in the day, putting out 11 studio albums from 1970-80. Free Hand, from 1975, was its major-label release and the only one to crack the top 50 of the U.S. Billboard Album chart.
YouTube
It's always important to note for classic-rock novices that Jethro Tull is the name of the band, not the lead singer. That would be the flute-toting Ian Anderson. The band has always been quite innovative, even when starting out with more of a blues and jazz vibe. Into the 1970s, Tull transitioned into more of a progressive, but heavier, sound. Especially on 1971's Aqualung. Of course, the defining moment in the band's history came one year later, with the conceptually ambitious and undeniably progressive Thick as a Brick.
YouTube
Between the lyrical and compositional complexity of guitarist Kerry Livgren's mind to Robby Steinhardt's rock-fused violin or Phil Ehart's timely drumming, Kansas was more than just an arena rock staple from the 1970s. The band's early work was filled with plenty of virtuosity, and even its breakthrough 1976 Leftoverture, anchored by the classic "Carry On Wayward Son," was commercially progressive. There might actually not be a more progressive ballad than 1978's "Dust in the Wind."
Michael Ochs Archives/Getty Images
Another massive influence on the progressive rock scene, King Crimson was founded in the late 1960s by guitarist/composer Robert Fripp, and also featured such rock heavyweights as Greg Lake, Bill Bruford, Boz Burrell, and John Wetton. Fripp and Co. were never afraid to experiment with their sound. Not only relying on the regular intricacies of prog rock, but classical, folk, and early elements of heavy metal that influenced the likes of Black Flag, Nirvana, and Mastodon. The band's 1960 debut In the Court of the Crimson King remains one of the most influential albums in music history.
YouTube
Words like innovative and creative don't begin to define The Mars Volta. Rising from the ashes of At the Drive-In during the early 2000s, the band was always in search of something new. Principals Cedric Bixler-Zavala and Omar Rodríguez-López made it a point to challenge themselves both musically, and from a lyrical standpoint. The Mars Volta sound has featured everything from psychedelic rock to hardcore, with the 2007-single "Wax Simulacra" winning the Grammy for Best Hard Rock Performance.
GAB Archive/Redferns/Getty Images
There are many rock critics and, certainly, fans who'll say that The Moody Blues were the true pioneers of both progressive and art-rock. Most notably with the release of 1967's Days of Future Passed. That record features, perhaps, the most recognized and greatest prog-rock track of all time — "Nights in White Satin." The 7 1/2-minute (in album form) masterpiece, is like an orchestral musical dream that includes a spoken-word poem, which is somewhat beautifully eerie. The Moody Blues were so much more than that one hit, and a major influence on fellow rock giants Deep Purple and Genesis.
RB/Redferns/Getty Images
At its offset, the Floyd was an early staple within the British psychedelic rock movement. However, with the mental and emotional demise of longtime leader Syd Barrett and the addition of virtuosic guitarist David Gilmour, Pink Floyd headed in a more progressive direction (beginning with 1969's Ummagumma). Especially when it came to its overall conception of sound. Of course, the Hall-of-Famers' defining musical moment came with 1973's Dark Side of the Moon, which is not only one of the great progressive rock albums ever recorded, but releases in music history.
Robin Little/Redferns/Getty Images
What started out pretty much a solo project for singer/guitarist Steve Wilson in the late 1980s, Porcupine Tree's early music offered more of a nod to the psychedelic rock — with a heavy Pink Floyd influence — of the 1960s. It wasn't until the 2000s when the band shifted to a more progressive sound. Though Porcupine Tree didn't enjoy true mainstream prog rock success until 2009, and its 10th and final studio release The Incident — which won the Grammy for Best Surround Sound Album.
Ron Galella, Ltd./Ron Galella Collection via Getty Images
From the beginning, this Seattle-area hard-rock/metal outfit seemed was musically ambitious. With Geoff Tate's high-pitched, yet throaty, voice, the band had a distinctive sound that carried the torch within the progressive metal genre for roughly three decades. The group, in its classic form, was hailed for its conceptually creative lyrics, especially on Operation: Mindcrime (1988), and Operation: Mindcrime II (2006). Part of progressive metal's "Big Three: with Dream Theater and Fates Warning, Queensryche drew some roundabout comparison to Pink Floyd thanks to the success of 1991's "Silent Lucidity."
Brian Ferreira/Asbury Park Press, Asbury Park Press via Imagn Content Services, LLC/USA TODAY
If we were ranking the greatest prog-rock bands in music history, Rush would likely top the list (most notably for its work in the 1970s). Heavy on lyrical conception, the legendary trio of Geddy Lee, Alex Lifeson, and Neil Peart offered various complex pieces ("2112," "Cygnus X-1," "La Villa Strangiato") and themes often involving science fiction fantasy. Though a guitar-driven band at heart, Peart was widely considered one of the great drummers of all time. As a collective, the musical genius of Rush is hard to beat.
Michael Ochs Archives/Getty Images
England's Soft Machine is another band that enjoyed early success as a psychedelic rock band during the late 1960s, before focusing on a more progressive path of musicianship. Particularly on 1970's Third album, which featured all seven tracks on the record clocking in at no less than 11 minutes, 22 seconds. There was also a heavy jazz presence for a group that was more critically, than commercially acclaimed. 
Jean-Louis URLI/Gamma-Rapho via Getty Images
Led by the talented songwriters/composers Roger Hodgson and Rick Davies, Supertramp certainly had progressive roots (most notably through its overly melodic self-titled debut). However, it did a relatively good job of putting some pop flare into the music. Beginning with 1974's Crime of the Century, upon the band's breakup, and obviously with the Grammy Award-winning Breakfast in America (1979). The latter is arguably the most lyrically brilliant of any Supertramp release.
Etienne DE MALGLAIVE/Gamma-Rapho via Getty Images
Whether positioned under the progressive rock or metal umbrella — yet most widely accepted as an alternative metal act, there's no denying the collective talent that has always been Tool. One of the more introvertedly private groups in music history, Tool is a bit of an enigma from a persona standpoint. But its complex rhythms and time signatures, plus the stellar drumming of Danny Carey and mysterious vocal brilliance of Maynard James Keenan, have helped the band win four Grammy Awards and remain one of metal's most acclaimed acts.
Charlie Gillett/Redferns/Getty Images
Another pioneer when it came to progressive rock, Yes did a fine job of successfully mixing musicianship and showmanship. Armed with rock greats such as Bill Bruford, Jon Anderson, Chris Squire, Steve Howe, and Alan White over the years, the Hall-of-Famers were perhaps best known for their intricate instrumental pieces (check out "Cinema"), that tended to show off the individual talent of various band members. Its hit "Roundabout" from 1971's Fragile truly captures the overall genius of the band, which enjoyed more commercial success with 1983's 90125.
Jeff Mezydlo has written about sports and entertainment online and for print for more than 25 years. He grew up in the far south suburbs of Chicago, 20 minutes from the Mascot Hall of Fame in Whiting, Ind. He's also the proud father of 11-year-old Matthew, aka "Bobby Bruin," mascot of St. Robert Bellarmine School in Chicago. You can follow Jeff at @jeffm401.